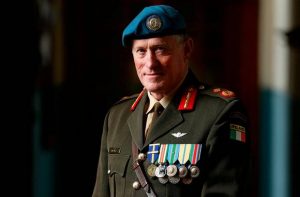 Major General Mick Beary retired recently from the Defence Forces after almost 45 years service. During his career he served in a wide variety of units and appointments.
At home these included: School Commandant of the Command and Staff School, Director of Training, Commandant of the Military College and General Officer Commanding 2 Brigade.
His overseas service included: Company Commander A Company 76 Infantry Battalion UNIFIL, Office of the Chief of Staff UNPROFOR, Intelligence Branch UNIKOM, Operations Section ISAF, Intelligence Branch EUMS, Mission Commander EU Training Mission Somalia, and Head of Mission and Force Commander UNIFIL.
As a mark of appreciation to Major General Beary, and in recognition of his long and distinguished service, it is proposed to hold a retirement function at 1600hrs on Thursday 15 November 2018 in Cathal Brugha Barracks Officers' Mess, Rathmines, Dublin.
Mick's many friends in ARCOIreland who wish to attend the function, or to send messages, should notify the Mess Secretary or Mess Sergeant, Cathal Brugha Barracks Officers Mess via email at: shane.heffernan@defenceforces.ie or phone via: 01 8046460 or 01 8046355, not later than 1630hrs on Friday 09 November 2018.