On the 23nd November, 2013 eleven former members of the 37th Cadet Class of the Defence Forces, that formed a Guard of Honour at the graveside of President John F. Kennedy in Washington in 1963, will travel to Washington to commemorate the event. They will be accompanied by a colour party of an officer, five cadets and a piper. A number of spouses of the former cadets will also travel. At a brief ceremony the party will lay a wreath at President Kennedy's grave on Monday the 25th November and also at the Tomb of the Unknowns in Arlington Cemetery, Washington. The Irish Ambassador to the United States will be present at the ceremony and will host a reception later that day in the Embassy.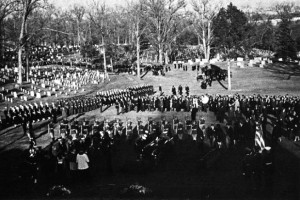 In 1963, at the request of Mrs Jacqueline Kennedy, 26 cadets stationed at the time in the Military College, Curragh, County Kildare flew to Washington with President de Valera (who was representing the State at the funeral) to perform funeral drill at the graveside of the assassinated President. President Kennedy had witnessed the same funeral drill by members of the 36th Cadet Class at Arbour Hill during his visit to Ireland some months previously.
Prior to the wreath laying, the travelling group will assemble in Fort Myer, where the cadets were accommodated in 1963, and will present a replica of the 37th Class pennant to the Officer Commanding the Fort. Later a deactivated Number 4 Lee Enfield .303 rifle (the weapon carried by the cadets in 1963) will be presented to the authorities of Arlington National Cemetery.
The former cadets travelling to Washington are:
Col R. Heaslip (retd)
Col B. O'Reilly (retd)
Lt Col J Ahern (retd)
Lt Col R. Dunne (retd)
Capt T. Hickey (retd)
Comdt L. Quinlan (retd)
Lt Col P. McMahon (retd)
Comdt H. O'Donnell (retd)
Capt F. O'Callaghan (retd)
Col E. Moloney (retd)
Col W. Nott (retd)