ARCO WREATH LAYING CEREMONY
GARDEN OF REMEMBRANCE – FRIDAY, 7 0CTOBER 2016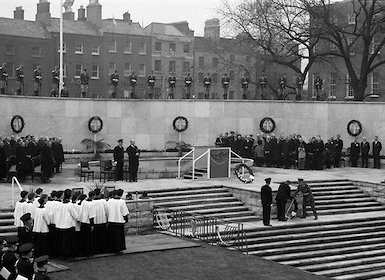 Introduction
The Association of Retired Commissioned Officers (ARCO) will conduct a formal and solemn Wreath Laying Ceremony in the Garden of Remembrance on Friday, 7 October 2016, commencing at 1200hrs.
The ceremony will remember, honour and commemorate the participants in the 1916 Easter Rising and will also recall the involvement of ARCO members who participated in the commemorations marking the 50th Anniversary of the Rising in 1966. The 39th and 40th Cadet Classes marched in the Easter Parade on 10 April 1966 and the 39th Cadet Class provided the Guard of Honour at the dedication of the Garden of Remembrance on Easter Monday, 11 April 1966.
Ceremony and Reception
The Ceremony will incorporate appropriate prayers, reflections and music. After the solemn laying of a wreath by ARCO's President, Commander Gerard O'Flynn (Retd), a minute of silent reflection will be observed, which will be followed by a Piper's Lament, the rendering of the Last Post, the raising of the Irish Flag to full mast, the rendering of Reveille and the playing of the National Anthem. 
The expected duration of the Ceremony is 30 minutes.
A reception for all guests, participants and attendees will take place immediately afterwards in the Gresham Hotel, O'Connell Street.
Invitations and Attendance
The Lord Mayor of Dublin, Representatives of the Government, Oireachtas, Defence Spokespersons and Defence Forces, along with representatives of kindred organisations, will be formally invited to the ceremony.  
The main cohort of attendees, however, will be drawn from the ARCO membership – including members of the 39th and 40th Cadet Classes & Class Officers who paraded in April 1966.
General Invitation to ARCO Membership
ARCO members, along with their families and friends, are invited and encouraged to attend. Members should indicate their intention to attend, by Friday, 23 September 2016 please, through the following means:
General Matters
All attendees are requested to be seated by 1140hrs to facilitate the arrival of dignitaries between 1145hrs and 1150hrs.
Dress is Informal with Medals. Should adverse weather require the wearing of overcoats, medals should not be worn on the outer garment. As this is an outdoor event you are advised to come well prepared for all weather conditions.  
Dedicated car-parking is not available at the Garden of Remembrance for private vehicles. A set-down facility will be available at Parnell Square North, which will also be the location of the ambulance station. Entrance to the ceremony is through the Parnell Square North gate (opposite the Hugh Lane Gallery) which leads directly to the upper level plinth. This is where seating will be provided for attendees in the designated area left and right of the Children of Lir Sculpture.
As this is a national event, organised by ARCO for its members, it is important that we have an appropriate turnout on the day. We therefore look forward to seeing many old friends and comrades in the Garden of Remembrance on Friday, 7 October 2016.