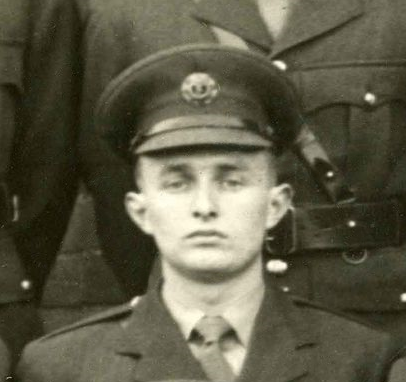 ARCO regrets to inform its members of the death of Brigadier General Thomas (Tom) Quinlan DSM of Terenure, Dublin City, and formerly of Colligan, Dungarvan, County Waterford, on Friday, 2 March 2018. Sadly missed by his sister-in-law Cait, nephews John and Tom Butler, John and Gerry Quinlan, nieces Joanne and Finola Butler, Orla and Aideen Quinlan, grand nephews, grand nieces, relations, friends and former colleagues.
Tom was a member of 27 Cadet Class (1953 to 1954). He was a Platoon Commander with A Company, 35 Infantry Battalion, ONUC at the siege of Jadotville which took place between 13 and 17 September 1961, during the United Nations intervention in Katanga. Tom later commanded his platoon for the successful action at the Old Airstrip, Elizabethville on 5 December 1961 during Operation Unokat. Both 35 and 36 Battalions were involved in Operation Unokat, which culminated with the attack by 36 Battalion on The Tunnel on 16 December 1961. While serving as a Captain with 10 Infantry Group, UNFICYP, Tom was presented with the DSM, With Distinction, on 4 June 1968 for his qualities of leadership and courage while serving with ONUC during the period September to December 1961. Five NCOs were presented with the DSM at the same parade. He commanded 45 Infantry Battalion UNIFIL, Lebanon in 1979. As Chief, Observer Group Egypt, while serving with UNTSO, Tom was on the reviewing stand in Cairo with James Tully TD, Minister for Defence, and Lieutenant General Louis Hogan, Chief of Staff, on 6 October 1981 when President Anwar Sadat was assassinated. At home Tom Quinlan served in a wide variety of appointments, including Cadet Master, and GOC Southern Command, and retired with the rank of Brigadier General.
Ar dheis Dé go raibh a anam dílis
Reposing at Drohan's funeral home, Emmett Street, Dungarvan, County Waterford on Thursday, 8 March from 5pm to 7pm with removal afterwards to St. Anne's Church, Colligan. Funeral mass at 12 noon on Friday, 9 March followed by burial in the adjoining cemetery.